Curtain Magic Mould & Mildew Remover makes mould vanish in minutes, without taking your curtains down. We even guarantee it!
Curtain Magic works on all curtains, verticals, blinds, nets, thermal drapes, cotton and all fabric linings and more, without taking them down! (Read about more uses on this page)
No laundry washing -- no taking curtains down -- no dry cleaners -- no curtain cleaning companies in your house!
Use Curtain Magic to quickly remove & get rid of mould off all types of curtain fabrics and linings. Using our product can save you up to 75% compared to what some UK curtain cleaning services charge for mould & stain removal!
Over 30,000+ Residential & Commercial Clients Use Curtain Magic Mould Remover!
***Watch Live 3 Minute Product Demo Video Here!***
(We are in the process of making a new video in the UK, but in the meantime, here is the video demo we are currently using in New Zealand)
—————--

View sizes & prices -- READ 100's of TESTIMONIALS -- Our testimonial of the month
You have discovered one of the best mould removal products on the market in the UK, our products have quickly become the secret weapon that curtain cleaning companies use to bring curtains back to life within minutes. It really works! It even works in the damp high salt air regions on the UK coast.
Other Uses:
Many of our clients have emailed us with ideas & uses for our mould cleaning product which has worked for them, such as;
Removing yellow spots & stains off nets, linings, sheer and voiles;
Removing black mould & mildew off roller blinds without washing them;
Cleaning mould off cotton curtains
Treating blinds of mould, and to stop further short term growth (mould will always grow if moisture is present. Our product will keep the curtains mould resistant assuming no moisture is present).
Making mould vanish from drapes and colourfast fabrics;
Using our spray to get mould off the wall and wallpaper that grows behind the curtain drops and around the window sill.
Our clients have also tested our amazing mould removal products on caravan curtains & awnings, cigarette nicotine stain removal, life jackets, boat covers & curtains, tents, plastic garden chairs & furniture, jumping castles, clothes, bathroom plastic shower curtains, upholstery, coffee stains, leather, lamp shades, canopies, shipping container mould cleaning -- t-shirts & more! Order the Curtain Magic strength for all these applications.
Here is another video filmed by a customer that we found on Youtube:
Curtain Magic Mould Remover is now selling in 5 different countries around the world… UK, Ireland, Australia, New Zealand and the USA… and is proving to an absolute best seller in the 'delicate' area of curtain mould removal and curtain cleaning products in the UK.
Here is some feedback off EBAY: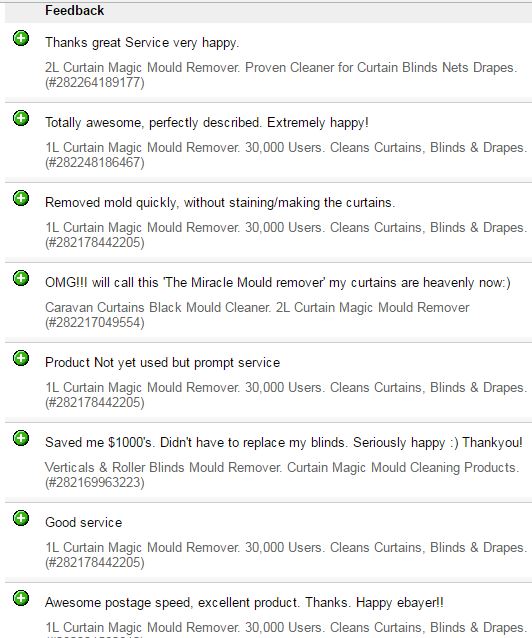 *** CEILING & WALL MAGIC: Product Details Here ***
———————————————————--